Ways to have fun and entertain the kids on Christmas Day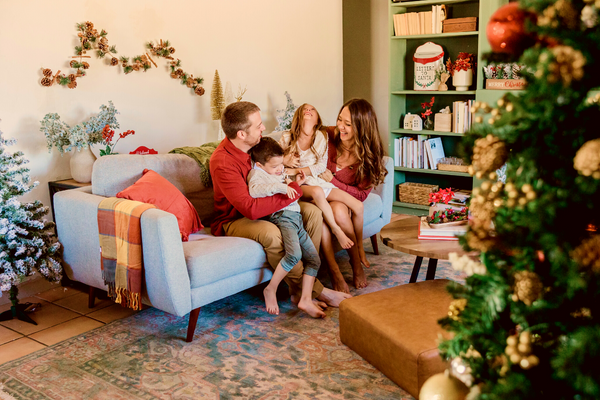 Guess the Smell Christmas Game

Put your sniffer to the test with this silly game, which features all sorts of holiday scents like peppermint, pine, nutmeg, and more.

Christmas is one of those times of the year which is particularly fragrant, and often a smell that reminds you of the holiday season can take you back and bring up some very happy memories…

Why not pick out some of your favourite smells, put them in a jar or container, and play this entertaining guessing game?

The kids will be amused at being blindfolded and then taking it in turns to see who can guess each smell.
Build a Snowman

This is a simple game where you need nothing more than to grab a spare toilet roll and invite the children to wrap themselves up in tissue like a snowman!

Choose one builder of the chosen person acting as the 'snowman', fetch the toilet roll and just wrap the tissue around until they resemble a snowman. Then place a hat, black socks or anything that can be used as buttons, and if you're feeling creative enough, a DIY orange carrot nose on their snowman. Voila!

A very silly game, but if you don't mind losing a toilet roll this will be sure to get the kids giggling in delight.
Who Am I? Christmas Edition

This festive version can feature all sorts of Christmas characters like the Grinch, Olaf, Rudolph, and more. Base the characteristics of a person or animal that everyone can identify.

This game works well with any size group, however the larger the group, the more fun the game becomes. Each person tries to guess which person or animal they are by only asking "Yes" or "No" questions to gain clues about the name that is on their forehead.

Just remember to get some sticky notes or find the next best thing to ensure the cheaters don't find an excuse to have a peak!
Christmas Dance Freeze

Turn rockin' around the Christmas tree into a competition by holding a holiday dance-off.

Turn up the music and throw out your best dance moves, then turn off the music without warning and shout, "freeze!"

Whoever stops moving last is out. Just be warned, a fit of the giggles will be guaranteed. Traditional party games are always the best and this is a good one, whatever the occasion.
Oven Mitts Challenge

If it seems like your family unwraps their gifts a little too fast, put their skills to the test with this challenge, which rewards the first person to unwrap a present while wearing oven mitts.

Kids will find this idea hilarious as they take it in turns to try and unwrap a gift with their hands in oven mits. You could even encourage a race between siblings or other family members as everyone will be engrossed in trying to beat the rest to be the first person to unwrap their gift.

This could be made even more entertaining by wrapping up an item that doesn't belong to them and watching their faces as they realise all their hard work will have been in vain!