How To Stay Cool This Summer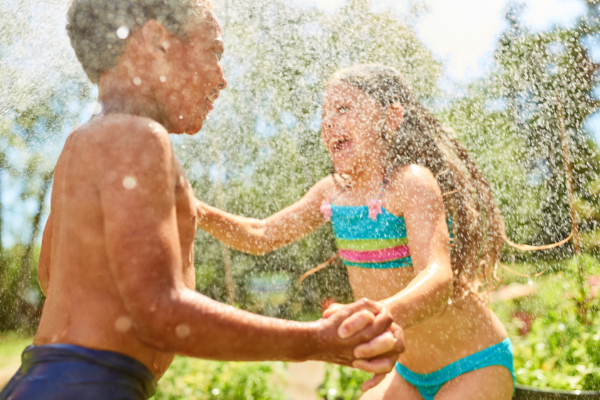 With temperatures hitting the high 30's early next week, it's important to know how to cool off when it gets hot!

However, with the Summer finally here, this is a perfect opportunity to have some fun, bring out the water soakers, splash around in the pool (where possible) and prepare the water slides – anything to cool off!

Here are just of the fun things you can do at home with the children to cool down this Summer holiday…
Garden Sprinkler

If you're looking for the perfect ingredients for backyard fun, add a pinch of friends and family, a dash of laughter and a sprinkle of … sprinklers!

Sun and waterplay go together like lemonade and ice cubes, so when the temperature goes up, kids will love to cool down with water.

Cooling off with sprinklers can be as simple as just running through the water whilst trying to get wet and of course, the joyously shrieking at the simple fun of it all.

Just make sure your grass is clear of all rocks and other debris, slather on the waterproof sunscreen, and have the towels ready for the post-play warmup!
Water relay

Water sponge relay is a great way to test your child's balance and keep cool at the same time!

You will need some large sponges and some buckets. Place a bucket at either end of the garden, fill one with water, and leave one empty. The first player should dip their sponge into the bucket of water, race to the empty bucket, squeeze out their sponge, and race back to the original bucket without dropping their sponge!

Once they make it back, the next player will start. The team with the most water in their previously empty bucket at the end wins!
Slip 'n' Slide

Have some slippery, drenching, thrilling fun with your own homemade slip 'n slide. Set up a tarp on the grass beside the sprinkler and kids can run and slide to their hearts content. If your garden happens to slope a little, even better!

If you don't have one, you can easily DIY by grabbing a sturdy plastic table cloth or a plastic tarp and pin it to the ground with garden spikes. Add water, and if you really want to fly, just add a little soap!

Set up your sprinkler to keep the plastic covering wet and encourage the children to take it in turns to see who can slide the furthest.
Water Soakers

Gather your friends and family for an epic water battle with a water gun – what better way is there to get wet and wild!

With the Summer holidays virtually here for all of us, now's your chance to build up an arsenal of the best water guns you can afford…

Bring a touch of carnage to your back garden this Summer and watch the kids squeal with delight when you bring them out – let the battles begin!
Balloon Back-to-Back Race

Why not cool off by combining water balloons with a back-to-back race?

Instead of just hurling the water balloons and seeing who can get the wettest, kids can try and pop the balloons between their backs whilst players race from a start and finish line you can set up.

If you have more than 4 people, divide them into two teams; as soon as one couple reaches the finish line with the intact water balloon between their backs – the next couple starts.

If the balloon pops, the player pair has to go back to the start line, pick up a new balloon, and race again.

If a race is too tricky for little ones, just stick to the old fashioned rules and throw them!