Halloween Crafts Ideas for Kids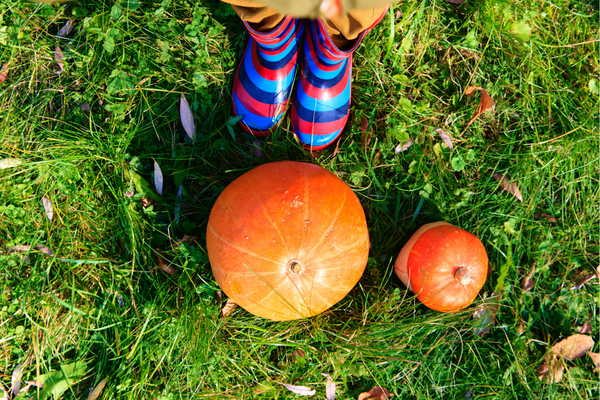 Magic Wands and Potions

For the young witches and wizards amongst us, why not have a go at whittling your own wand, or collect some sticks and make a twig broomstick – perfect for a quick game of Quiddich!

You can whip up a woodland potion using special ingredients gathered from the forest floor, just:

Take a beaker of water out on your adventure, add a splash of water and find a stick for stirring.

Look out for brightly coloured leaves, fluffy feathers, glossy berries, scented pine needles, and other woodland treasures to add to your potion.

Use your stick to stir everything up, then find a special spot to pour out your portion and make a wish.
Twig Skeleton

Did you know there are 206 bones in the human body?

Kids have even more because some of their bones haven't fused yet.

To make your own chilling skeleton, gather some natural materials and lay them out on the ground:

Make a skull from a large leaf and eye sockets from conkers.

Use leaves to make collarbones and a pelvis.

Twigs are perfect for legs, arms, a spine and a ribcage.

More twigs or catkins work for fingers and toes, while conkers and pebbles are great for kneecaps or feet!
Leaf Art Pumpkins

All of a sudden it seems that there are tons of brightly coloured leaves on the ground, perfect for collecting and doing something creative with this Halloween!

There isn't much that's more satisfying than stepping on a crunchy leaf, but for today's project you'll want to collect your leaves while they're still soft and freshly fallen – just make sure they're dry!

With just a pair of scissors and a glue stick, you can quickly create a mini pumpkin patch on your pumpkins and if you want to add more detail, you can cut jack-o-lantern faces from deep red leaves and glue them onto each mini pumpkin.

You could even skip the pumpkin completely and have fun making decoupage leaf art right onto paper!
Bat Nature Craft

With Autumn firmly here, what better way to welcome the Season than with a simple and cute bat craft!

You will need lots of small twigs and dead or dried out leaves.

Firstly, you will need to cut out a simple bat shape out of a piece of cardboard. Then using glue, simply place all the twigs (trimmed to size) to the shape of the cardboard and add eyes to finish off, simple.

Another thing to love about this craft is that it will last for a long time since you will be using sticks and dead leaves. Many nature crafts have a quick expiration date, but this one will last through the season or longer if you store it carefully, providing lots of admiring glances from friends and family!
Pumpkin lanterns and crafts

Let's be honest, it just wouldn't be Halloween if we didn't list jack o'lanterns as an activity to do with the kids and is one of the best bits about celebrating Halloween!

So if you're carving a pumpkin at home then why not get inspiration from our woodland wildlife?

Cut the top off your pumpkin, scoop out the flesh, then carve a bat, spider web, owl or spooky tree into the skin. Pop an LED tealight inside and let it glow in the darkness, just in time for those trick or treaters!

Got some excess leaves left over? These can be turned into pumpkins too!

Just gather some orange leaves and arrange them in a pumpkin shape on the ground. Use dark brown leaves to create glaring eyes and a grinning mouth.

Conkers make brilliant mini pumpkins too, so why not paint them orange and draw funny faces on them!