Spring Activities To Get Your Kids Outdoors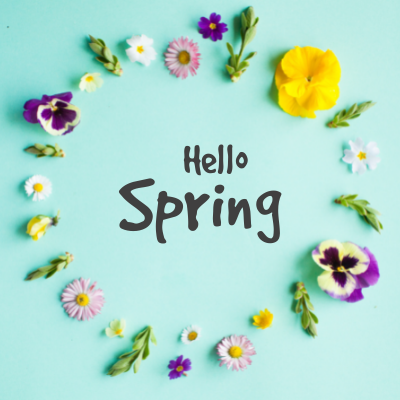 So the Easter holidays are over, you're still trying to figure out where the last three weeks have gone and now it's back to school and business as usual!

Hopefully you were able to enjoy some time off and or enjoyed a nice long weekend with the family, but it's a shock with life resuming back to normal after the holidays and it's pretty full on.

But one good thing (and I think it's fair to say) is that Spring has finally sprung!

We can now (hopefully), look forward to some warmer weather and start planning some fun Spring activities to make the most of the change in Season.

Spring is a great time to be outside again and to start enjoying the outdoors, so we've come up with some fun ways to get outside with the kids and help celebrate Spring!
Go for a bike ride

What better way than to get a big dollop of fresh air and exercise by taking the children out for a nice bike ride over this coming long-weekend.

Dust of the bikes and get out into the fresh country air, it's also a bonus that it's free too!

Going for a nice bike ride is a great activity to do with friends and family and you'll be more inclined to keep up this healthy habit when you surround yourself in nature's beautiful spring bounty!

Because it infuses your mind and body with good feelings, cycling in Spring will keep you motivated to continue. If you set this routine now, you'll be more likely to keep riding even when it's hotter in the Summer months.

Needless to say, regular exercise is essential for good health. It keeps you from being too sedentary, gives your muscles the motion they need, builds endurance, and even helps your immune system.

Plan a route and take some snacks to help keep your energy levels up too.
Plant some seeds

Watching plants grow is a fun and educational experience for children. Their enormous curiosity and excitement over anything new, makes them naturals for gardening.

Growing plant seeds with kids teaches them how nature works – it encourages them to care for something, to find out about environmental sustainability and gives them pride in themselves when they see the results.

Choose easy seeds for kids that are large enough to handle and germinate readily.

Fun plants for children are fruits and vegetables, flowers and any uniquely shaped plant.

Wild flower seeds germinate readily and add obvious colour and tone to baskets, beds and containers. Most wildflowers make excellent fast growing seeds for kids.

Best of all, when they're ready you can cut them down and bring them indoors!
Earth art

The Seasons are changing and bringing new colours to our world so why not head outside and celebrate with your child with nature art!

With so many stunning colours, shapes, and textures, it's no wonder we feel so inspired when we're outdoors.

Earth art is a simple, fun and free nature craft for kids of any age – and maybe even for adults too. It's creative, open-ended and environmentally friendly.

Making foraged art is about making art with what you find and finding art in what you see. Create some eco-friendly earth art using gathered natural materials and playing with blooms, leaves, sticks, and branches to make beautiful, geometric, whimsical shapes and forms, and a masterpiece even Vincent Van Gogh will be proud of!
Go on a picnic

Picnics are the joy of children, and often of adults too.

The arrival of spring could be the perfect opportunity to organise a picnic with your family and friends.

Once spring temperatures arrive, it's a great time to pack some food and roll out the blanket for picnic season – the weather is so pleasant that it feels like a crime not to enjoy a lovely spread in the nearest bit of outdoor space available.

Picnics are a great and cost effective way to make the most of your day out over the long weekend; all you need is a suitable location, comfy blanket and delicious food.

With a bit of preparation, (you can even get the kids to help), you could head to the local park, countryside or just any suitable spot whilst you're out and about.

Kids love a bit of alfresco dining so why not start picnic season early?!
Make a bird feeder

Kids love making things. It enhances their creativity and gives them something to be proud of. Making homemade bird feeders for your garden is a fun way for you and your kids to get to know which birds are native to your area.

Encouraging your kids to recycle and make something, will hopefully install some good practice for when they are older.

Have a rummage in the recycling box and you will find plastic bottles, jars, carboard tubes, and pots – basically anything can be used to make things with a bit of imagination!

Make this adorable upcycled bird feeder with a couple of containers and some fabric scraps and the birds that visit your garden will be more than happy with your creations!