Fun Activities for Kids to Get Active and Reach 60 Minutes of Daily Activity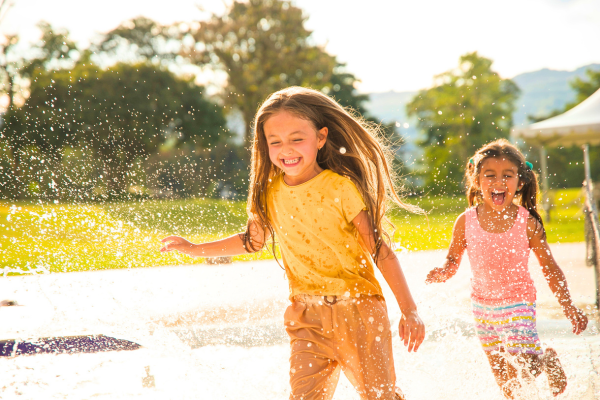 Walking or jogging in a local park or nature trail

Going for a walk or jog in a nearby park or nature trail is a great way to get some fresh air and exercise. Kids can explore the natural surroundings and burn off some energy at the same time.

There are so many local trails, footpaths and cycle paths, it's a great time of year to go on a family adventure and whilst outside, see if you can spot the beginnings of fruit on the trees and elderflowers to pick!
Dancing to music at home or at a community centre

Dancing is a great way to get the heart rate up and have fun at the same time. Kids love to dance to their favourite music at home or join a community dance class.

Get the tunes on and give yourself a kitchen disco – the kids will get a real thrill from seeing you get involved and dancing with them.

Have a dance-off, and let them see your best moves!
Playing active games like tag, hide-and-seek, or capture the flag with friends

These games are classic favourites that kids have been playing for generations. We can guarantee they never get tired of them – our Activity Leaders tell us they are always a hit at one of our Active Camps!

They're fun, active, and can be played by all ages in a team, at home, or with a group of friends.
Swimming at a local pool or beach

Swimming is a great way to cool off on a hot day while getting some exercise.

With all the glorious weather we've been having, why not head down to your local outdoor pool or beach for the day?

Whether the children can swim or not, they can either be practising their backstroke, jumping in or having a splash around – if they're using energy, it all counts as exercise, so what are you waiting for?!
Playing outdoor games like frisbee or football

Outdoor games like frisbee or football are a great way to get the kids moving and will also improve coordination and teamwork.

If you have a bigger team and willing adults, you could also conjure up a game of rounders in your local park so everyone is active – a great way to burn off that burger from a BBQ too!

They're a lot of fun to play with friends and kids can organise a pickup game with friends at a local park for free.